Hostile Vehicle Mitigation (HVM) Finite Element Analysis (FEA)
Background
DGA have developed, and validated, a series of finite element models which allow for the prediction of the efficacy of hostile vehicle mitigation (HVM) assets undergoing a vehicular strike. The models range from relatively simple fast-running models (i.e. the modelling of the vehicle is reduced in complexity) to models which predict the deformation of the vehicle in detail during impact.
Analysis
Large deflections, significant yielding and damage of components mean that the explicit finite element method is ideal for predicting the effects of these highly non-linear events.
FEA allows for the modelling of components to be rigid or flexible. It is therefore possible to evaluate proposed HVM designs by either ignoring the flexibility of the vehicle (shorter simulation times) or by including flexibility and damage of the vehicle (longer simulation times). 
Simulation of solid, e.g. bollards, shells, e.g. Armco type barriers, or steel cable systems such as that depicted in the image to the right can all be evaluated. Fluid-structure interaction (FSI) can also be incorporated into these models allowing for the analysis of air, water or sand, etc. filled barriers. 
DGA have experience in employing a wide-range of material models to fully capture these events; rate dependent constitutive models such as Johnson-Cook or calibrated multi-linear material models can be used for ductile materials. Maximum stress, or pressure dependent constitutive models, can be used for glass and concrete materials for example. The image below illustrates the deceleration time history at the end of the simulation which can be used to measure, and tailor, the energy absorption characteristics of a particular design.
DGA has invested a significant amount of time developing and optimising the numerical modelling approach to the simulation of HVM systems. These systems can range from fencing to bollards to rising arm gates and bespoke street furniture. The finite element method allows for less conservativism than is typical in desk-top studies. This in turn leads to more efficient design and potentially significant cost-savings for the client. During HVM testing, or desktop studies, it can be difficult, if not impossible, to fully record or calculate the levels of stress and instantaneous deformation within a system during an impact event. Using computer simulations to predict the event allows a designer unparalleled levels of information and understanding of the event. Small changes to the design can be investigated which may have large effects on the overall efficacy of the design.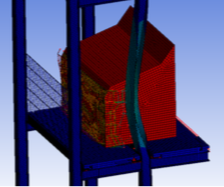 Benefit
The finite element method is a well-established tool within general engineering. It is also a mature technology within the automotive industry for the development of crash test performance. However, for Hostile Vehicle Mitigation (HVM) applications it is not currently positioned as a tool to replace physical testing due to the complex nature of the events, but can bring significant benefits to clients in the form of design development. A model which has been validated can be used to investigate potential design solutions with modifications to the geometry of structural elements, material grades, orientation of loading, and material thicknesses for example.
Once this model is created, it can be used again and again at relatively low cost. This is a form of rapid prototyping which operates at an order of magnitude faster and cheaper than repeated physical testing. Results such as the reaction force time history shown below can also be used to ensure that the foundation/mounting systems are also resilient.